Play It Forward
---
---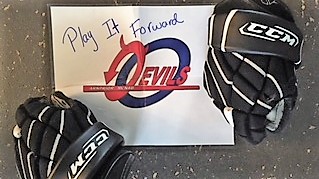 ---
Has your child outgrown last years gear?
If you would rather donate than sell, please consider our Play It Forward Bins.
As we are still going through kids equipment, we may all come across stuff that doesn't fit anymore and you just aren't sure what to do with it.
I would like to fill the bins that we have with donated equipment. This helps us help to help allow the opportunity for kids to play. It also allows us to help kids continue to play at all levels.
Should you have anything you would like to donate/pay forward, please let our equipment manager know and we will make arrangements to meet up with you at the rink to add to the bin.
Thank you in advance for helping kids play ringette.
Thanks
The AMRA Executive